Happy New Year, Viva La Neve Baby!!
Here's are some snapshots from our week long,
1400 mile Ski trip to Canada Jan 2-10.
Early Season yes, but found less crowds and some ski deals on lodging
We skied five days at five different Resorts at
Schweitzer in Idaho, Whitefish in Montana, Ferine in British Columbia,
KickingHorse B.C. and Revelstoke B.C.
Part couch tour-Motel rooms and Resort stay. Ski tickets averaged $75 per day.
So sorry there aren't many photos as we didn't want to stop skiing at these prices.
Let the couch tour begin!!!
First to Sandpoint Idaho a 7 hour drive where we visited Susan's parents and Brother.
Sleeping on his Couch/floor with Oreo the Rabbit.
Here we skied Schweitzer Ski resort.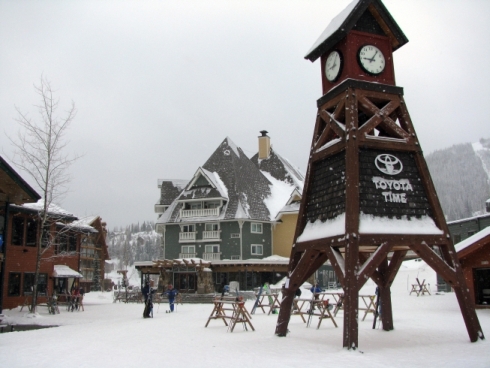 New Snow and snowing lightly with some visibility, It was a cold 10*F at base
typically this place is in the clouds Every time I have been here and very hard to see.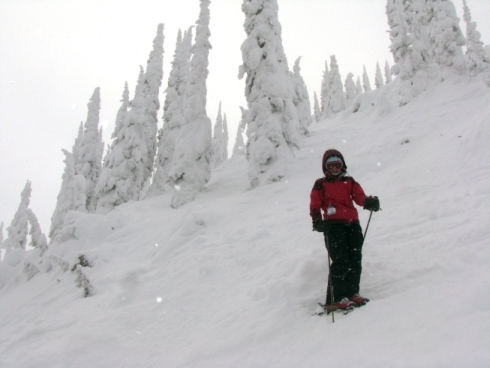 Susan's Favorite Run: Styles bowl complete with Snow ghosts
we skied hard and got all over the mountain, Cold but happy,
we did get whited out in the end skiing by feel with abit of vertigo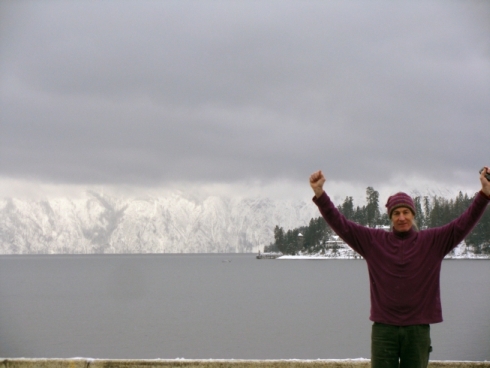 The next morning we were off around lake Pend Orelle (big) and into Montana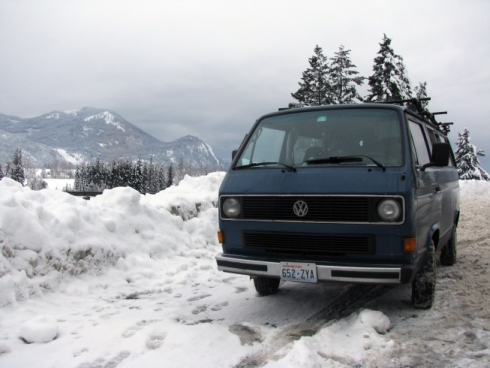 The Vanagon (Mosey) with 300,000+ miles still gets us around (with care)
windshield wiper fluid container burst (froze) so road grime on windshield
was an issue having to stop frequently to clean wind shield with hand Squeegee.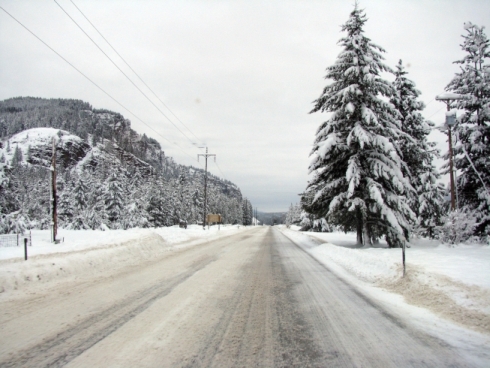 6 hours of Winter Driving to Whitefish Montana
(Yes!!!we have studded tires on rear!!)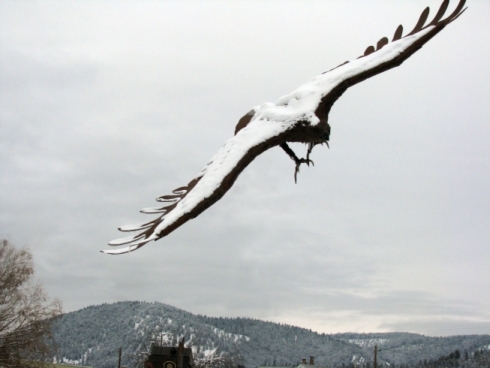 We traversed some nice Idaho/Montana wilderness,
The steel eagles kept swooping at the Van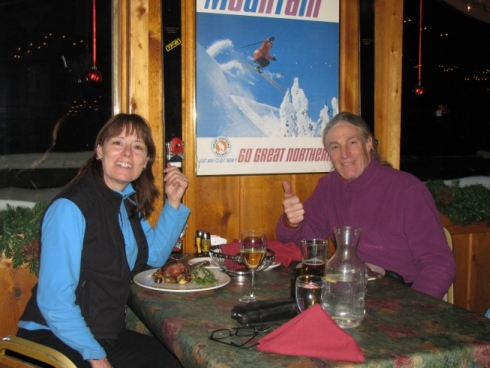 We arrived at Whitefish right at dark and treated ourselves to a great meal
at the Schuss Inn right in the middle of a ski run.
Great food, awesome ski memorabilia hanging all over the walls
to make for fun alpine ski atmosphere.(we celebrated Duncan's Bday for him)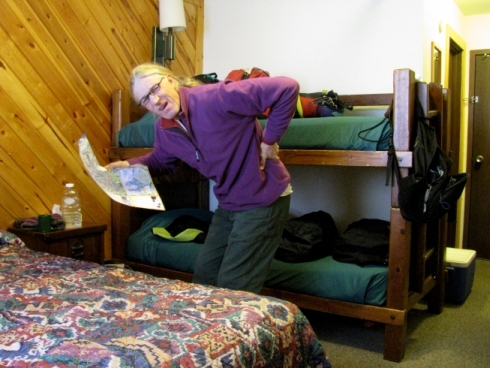 After dinner I studied the map as last year we were here and I could not ski due to
my back freaking out. This year????? Team Ibuprofen to the rescue.
We stayed at the Hibernation House ski-in with bunk beds and a hearty Breakfast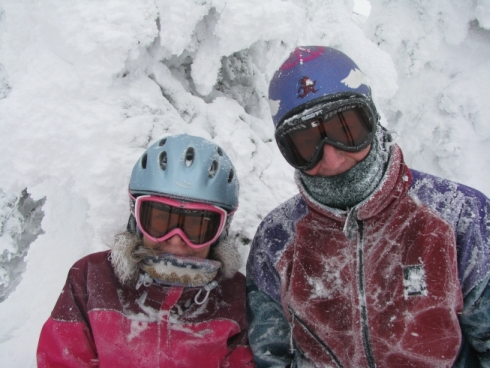 We shredded the entire mountain, new snow and light precip frosted us happy
It was cold around 10* luckily very light winds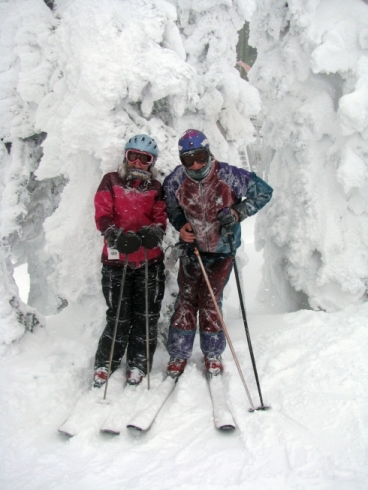 Snow Ghosts that's us, frosted but stoked to ski this mountain.
The terrain is good with the best being in tight trees.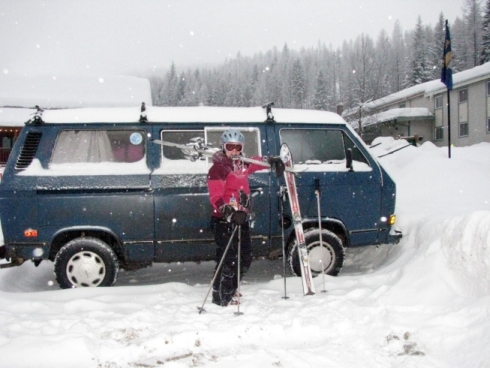 Back to Mosey and drive straight to Fernie British Columbia 3-4 hours
It was snowing, and approaching Fernie in dark was tricky driving due to
the windshield being glopped by the mucky roads. No stopping
due to avalanche paths so it was hard to pullover to clean windshield.
Worse than iced goggles with on coming snow plows in Tunnels....real fun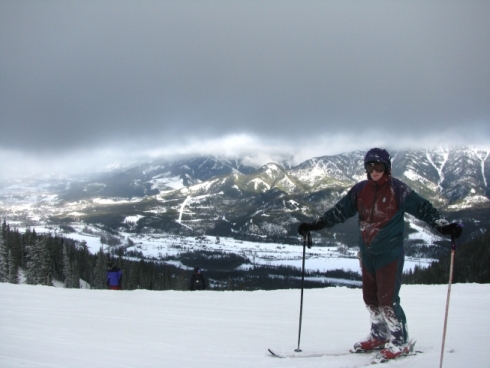 The next day skiing Fernie, the clouds parted for a bit
and we could see town of Fernie BC Below.
We skied in awesome Knee deep powder early in 20* temps
on the Boomer chair and Cedarbowl.
The afternoon warmed up considerably to just freezing (32*).
We lucked out and moved to the higher lifts were able to ski most of the mountain
early with exception of upper Currie Bowl.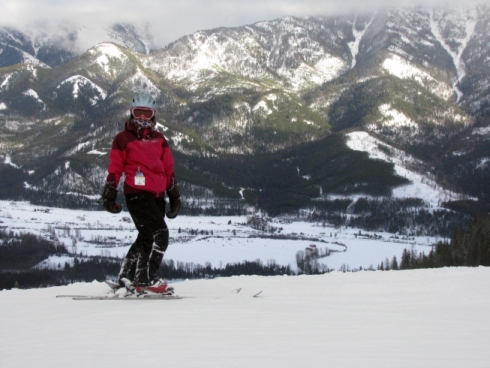 As It warmed in the afternoon some of the lifts were closed due to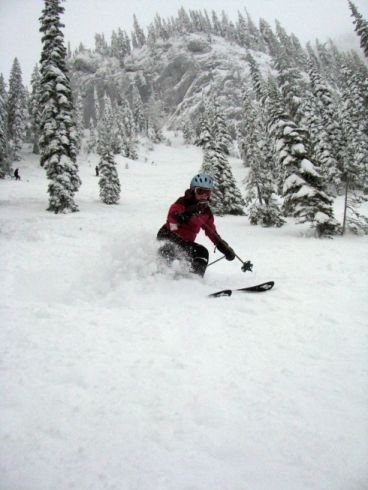 We Lucked out and scored on lower Currie bowl we found a
return traverse cat track and was able to get in acouple of runs
here on the upper chair before closing.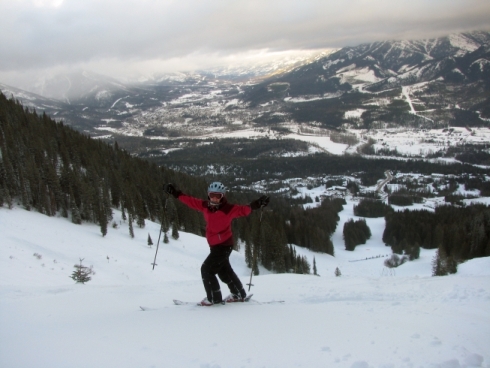 Last Run of the day at Fernie
on creamy untracked all-the-way down lower Currie Bowl.
Super Fun Day of skiing a bit on the edge of okay ...but perfect for NWesterners.
We had cozy night at the WolfsDen lodge right at the ski area base resort.
The Next morning were contemplating skiing here again but the ski area was on standby due to Avalanche conditions.
So it was either go home or..deeper...Deeper into The Great White North.
One problem was the safety of the ever obscuring windshield, considering the hell we couldn't see getting here the night before. Luckily the housekeeping staff left a Squirt bottle in our room which was essential to driving further into the storm. YES, now I could open the window and squirt fluid onto the windshield with wipers and clean it with out stopping.
The Weather reported that is was dumping snow North to Revelstoke.
After some Begging & Pleading that my highway squirting was safe and Mosey the Van was ready to go further, We drove even further into the Great White North in search of soft snow. ooooooooyeah!!
We drove for 6 daylight hours up the magnificent Columbia valley passing Columbia Lake
(the head waters of the mighty Columbia river that we live on over 700 miles away).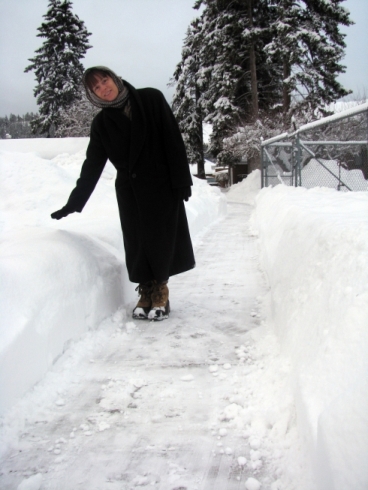 We found a nice room in Golden BC at Mary's Motel and strolled
about to find Dinner in the fresh new snow anticipating our ski day to follow
at Kicking Horse, one of BC's newest ski hills.
Mostly all runs are black diamonds and double diamonds!!! yummmy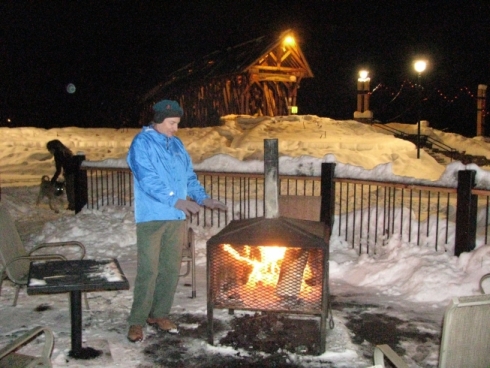 After dinner (a buffalo burger) A out door fire was inviting.
See the kicking horse river walking bridge in the Background.
In the morning we packed up Mosey in the dark and drove across a small single
lane bridge across the Columbia river,
Just like at home we cross the Columbia to go ski Mt Hood.
Kicking Horse is a very Alpine experience with most of the skiing above trees.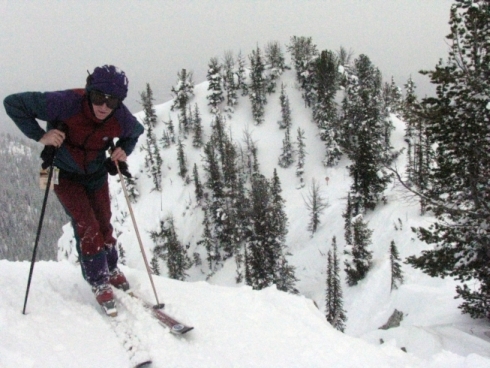 Chutes, Chutes, Chutes on three big ridges.
Here above a chute into Fuez Bowl. Lots of Rocks (and we hit a few)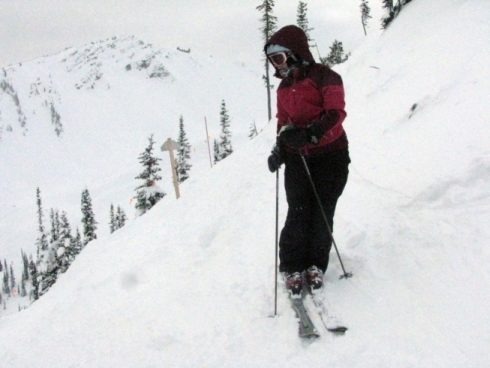 Susan on CPR ridge picking a line of untracked around the rocks.
We skied hard in cold conditions and Susan wanted to get some warm
food so we headed to the ultra-plush EaglesEye mountain top Restaurant.
It was late in the day and I had yet to ski the new terrain of Terminator
peak so Susan went in And I climbed up to the top of Terminator Peak.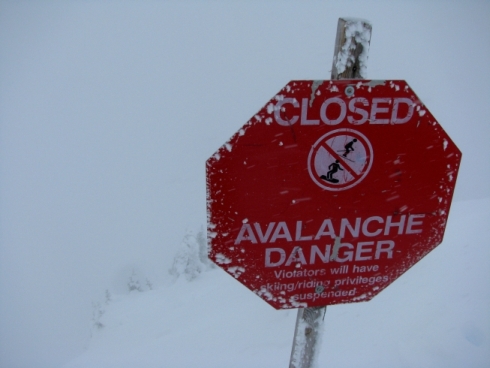 Along the 15 minute climb these signs stood permanently fixed.
At these resorts these signs are never crossed...
as it will be more than your ski ticket you loose!!!.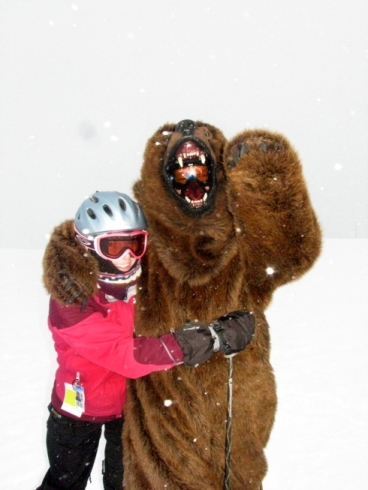 After my climb a really cool long decent 4200' down
All the way from Terminator Peak to the base.
I found Susan back up top being escorted out
of the Restaurant with a local "griz" at closing.
We had a nice long last run down the mountain just ahead of the Ski patrol Sweep.
We Drove Directly from Kicking Horse across the Trans-Canada in shitty
Conditions over Rodgers Pass.(Luckily it was open
and I had my Squirt bottle and a gallon of windshield antifreeze)
We arrived in Revelstoke after 3 hours of very aggressive Semi Truck traffic squirting.
We stayed with some friends on their hide-a bed who
have a condo right at the base gondola (Very deluxe couch tour stop).
In the morning we had deluxe "FREE" Euro Cocoa from the machine in the lobby
and loaded the Gondola to a welcome cool 20*F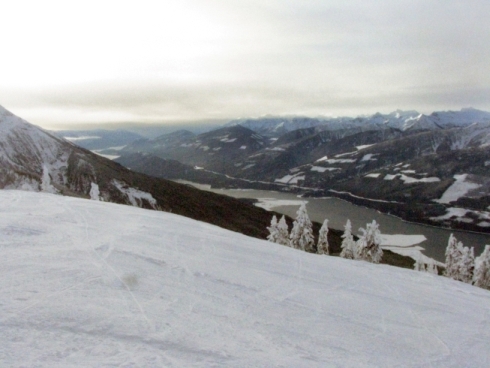 Up we went to another chair and to the top here 6000 feet above the Columbia River.
Revelstoke is Awesome in that it has 5620' Vertical feet to ski
more than any Resort in North America and most of the world.
Interestingly this mountain is in the trees mostly
with excellent fallline skiing to its base.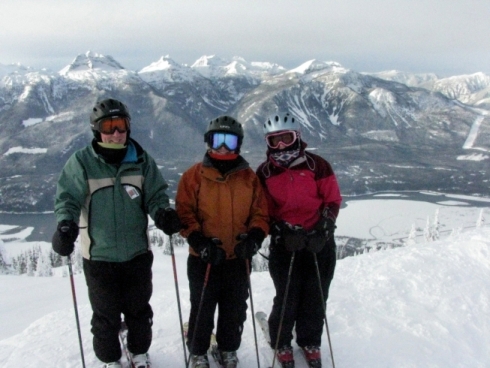 Our Hosts the Pete & Carol Fotheringham at Revelstoke
They gave us a complete tour of this fantastic mountain.